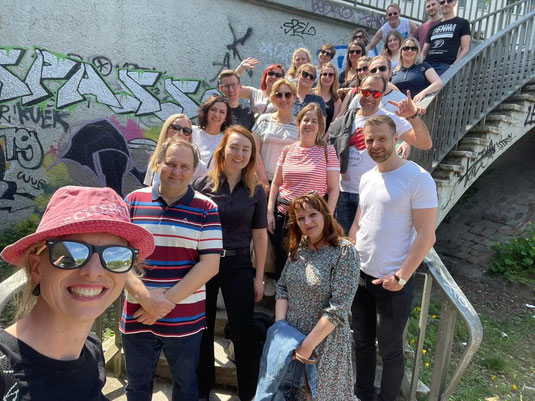 Following the motto "what lasts long - gets better and better and better", we set off from Dresden and the various parts of Berlin on 11 May to start our real reunion for the last two years with a first morning coffee at the SKS office in Berlin. It is fair to say that the journey was an experience in itself, on the Czech train with Czech beer - what can I say ...
Together we took public transport from the office through Berlin to the landing stage of our little steamer at the Caprivi Bridge. Enjoying the sunny weather, we took the 2-hour trip on the Spree to the government district and back. The water was lapping, the sunscreen was flowing and we were bubbling over with long pent-up conversation between our interesting SKS colleagues.
We then spent the afternoon getting out of escaperooms each in 5 groups of 5. Mixed up as we were, solving the puzzles required not only trying out creative thinking ideas but also practising clear communication of terms. It was fun! At least I can announce that everyone found out in one piece and - if only just, but ahead of time.
Afterwards, we used the short break at the hotel to relax, refresh ourselves and, of course, get dressed up for a visit to the Georgian restaurant "Genazvale". There we were presented with an excellent menu. However, because the life band was an absolute hit, we only got as far as the appetiser before storming the dance floor and dancing wildly: ALL of us (you wouldn't believe it).
It was an extraordinary evening and a great day with our top team.
A great thank you goes to Nelly for the ideas and the organisation. That was top! Yours, Elisabeth