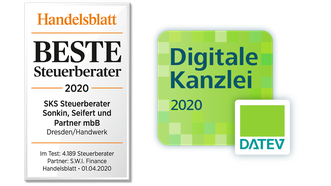 Dear clients, dear friends,
now it is official and sealed! Our long-standing focus on comprehensive consulting and digital organisation has been awarded a seal of approval by the Handelsblatt and Datev.
Last month's audit by the Social Science Institute Schad (S.W.I. Finance) on behalf of the Handelsblatt included on the one hand a technical part in which we had to deal with tax law questions from the basic area as well as from specific specialist topics under a strict time limit. On the other hand, our organisation, in particular the processing of orders, the flow of information and the company's orientation were examined.
As a result we are now "Best Tax Consultants 2020".
In addition, we faced a full analysis by DATEV on our degree of digitisation. In particular, the key figures of digitisation, such as the proportion of clients with digital receipts or the digitisation rate of transaction data, were evaluated. As a result, we received the Digital Law Firm seal and the award that we are one of the TOP chancelleries in this area.
Both awards must now be continued in 2020 and beyond. That is our SKS promise to you!